Angel BBNaija came to limelight in the Big Brother Naija Reality TV Show Season 6. She was the first female housemate to get into the house and has not ceased to be a topic of discourse from her first day in the BBNaija house on 25th July 2021. Angel was the 4th runner up at the BBNaija 2021 show.
Angel BBNaija's Full Name, Age
Angel was born Angel Agnes Smith to a teenage mother on 13th February 2000. As of 2022, BBNaija Angel is 22 years old.
Angel is quoted to have said about her name, "My name is Angel and it is befitting because I am truly a goddess".
Angel BBNaija's Biography
Angel was born to a teenage mother but raised by her grandmother. Her mother's name is Titilola Smith and father, Baron Meyagy. Angel's father is a Nigerian singer and presenter both on TV and radio while her mother is a Ghanaian. 
Hailing from Akwa Ibom state, she resides in Lagos state while her mother resides in London. Angel is a Christian and from the Efik tribe in Nigeria.
While living with her grandmother, Angel was mean to and frustrated the poor woman suffered dementia. Her frustration arose from the fact that BBNaija Angel at a young age of 10 had to take care of her grandmother without help and definitely without the necessary qualifications or background.
According to her, there is still a lot of residual guilt and remorse arising from her actions to her grandmother despite the passing away of the same.
BBNaija Angel had her post primary education at Marywood Girls College in Lagos State. She was burdened with the academic workload at Marywood Girls College where she was required to get at least 96% to score an A in any subject which she admits was little difficult for her to accomplish given her capabilities.
After her graduation, BBNaija Angel was primed to attend a private university in Nigeria but refused to do so because of the unreasonable restrictions she felt were imposed on students of such institutions.
Due to this development, she gained admission into the University of Lagos to further her studies. However, this was not to be as she dropped out after 2 weeks on campus without attending any lecture or class. Her parents were unaware of the situation and continued to insist on her getting good grades.
In order to salvage her education, Angel later went on to a British Foundation College where she intended to study the course, Mass Communication but she eventually dropped out.
At the moment, she has been unable to complete her education beyond Senior Secondary School certificate.
Owing to high expectations from both her school and mother, BBNaija Angel was depressed at age 14 and struggled immensely with her school work. She began self-harming at the same age and contemplated suicide several times.
Another major challege BBNaija Angel faced was at the age of 19 when she lost her boyfriend Victor to mental health related issues, this escalated her self doubt, made her question her existence and attempt suicide.
Angel has not totally gotten over the death of her boyfriend, a fact she made known expressly on the BBNaija 2021 show. She is however open to casual relationships but claims non readiness regarding anything serious or any serious relationship.
Adorned with about 11 tattoos on her body and 2 or 3 piercings, Angel is a self acclaimed feminist. She also bears the badge of being a drama queen and one who is prone to theatrics.
BBNaija Angel has a bold sense of style when it comes to fashion and displays it wholeheartedly. This has however caused misunderstanding and judgement from a lot of people.
Angel BBNaija's Career
BBNaija Angel is a feminist and writer. She loves storytelling and has taken freelance gigs in writing to hone her craft and become better at it. Angel has also written and authored a number of books.
Her journey into writing started at the age of 14, where she began her journey to self discovery and independence. Poetry is one of her many talents.  The 22 year old (as of 2022) is also a content creator and aspiring producer.
According to her, one of the major reasons she auditioned for the BBNaija 2021 reality TV show was because she saw the show as a veritable platform to garner an audience. It also served as a place to showcase her skills to the world and further her dreams of poetry, writing and producing movies.
BBNaija Angel is also a model with an impeccable sense of fashion.
Following her emergence as 4th runner up in the BBNaija 2021 reality TV show, Angel has gone on to receive several endorsement deals from companies in Nigeria such as GetFit Nigeria, a waist trainer and fitness brand in Nigeria and Africa as a brand ambassador.
She also received an endorsement deal from a leading jewelry brand in Nigeria in January 2022. Jenny's Glow Nigeria, an organic skincare company was the first major endorsement and ambassador deal Angel got after the conclusion of the show, a deal she announced on her Instagram page.
In addition to that, Angel is a brand ambassador for Olivevine Hair, a hair product brand.
Eyowo, a digital bank in Nigeria unveiled Angel as the first ever brand ambassador of the company.
Follow BBNaija Angel on Instagram @theangeljbsmith and Twitter @Angel_bbn
Angel BBNaija's Net worth
Angel is supposedly worth $350,000.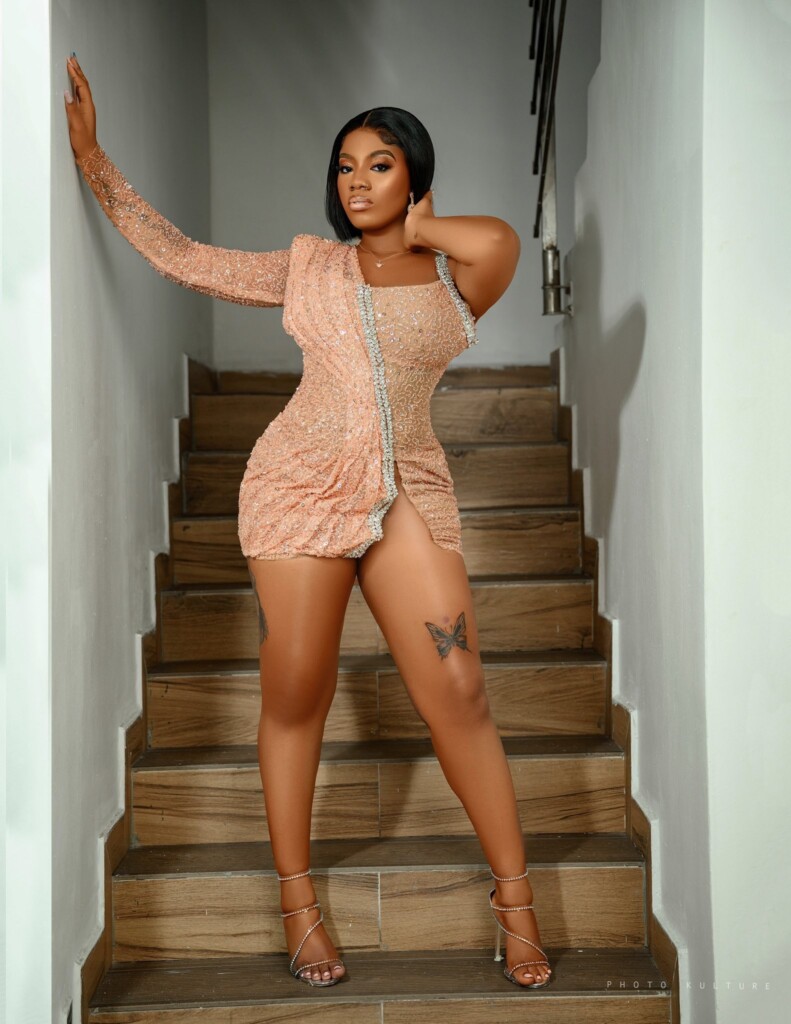 Frequently Asked Questions about Angel BBNaija
How old is BBNaija Angel?
Angel is 22 years old as of 2022.
What is BBNaija Angel's Zodiac sign?
Angel was born on February 13th so her zodiac sign is Aquarius.
What is the real name of BBNaija Angel?
Angel's real name is Angel Agnes Smith.
What is BBNaija Angel's mother's name?
Her mother's name is Titilola Smith.
What is BBNaija Angel's father's name?
Her father's name is Baron Meyagy.
Who was in charge of BBNaija Angel's social media while she was in the house?
Angel's father was her social media handler.
What state is BBNaija Angel from?
Angel is from Akwa Ibom state.
Conclusion
Angel came into the limelight through BBNaija 2021 and has been there ever since. I hope reading her story has given you a glimpse into the kind of person she is, her goals and aspirations, all she has gone through and what she is doing right now.
Share this post with a BBNaija Angel Stan.